Pollution affects us all, through the air we breathe, the water we drink, or the soil in which we grow our food. It is a major environmental cause of multiple mental and physical illnesses and premature deaths, especially among children, people with certain medical conditions and the elderly. This particularly happens in cities, where not only cars, transports, heating and cooling systems etc. emissions have an impact. There are indeed systems that are present everyday in different corners of our cities that are so far still based on fossil fuel solutions: temporary and transportable power gensets.
The EU Action Plan towards Zero Pollution Ambition is a key action of the European Green Pact scheduled for spring 2021. The European Green Week 2021 will be dedicated to the "zero pollution ambition". It will also examine other relevant initiatives of the European Green Pact in the fields of energy, industry, mobility, agriculture, fisheries, health and biodiversity.
In line with these climate initiatives and in order to tackle aforementioned challenges, the EVERYWH2ERE project is developing transportable gensets based on fuel cell hydrogen technologies, with the aim of being a viable alternative to diesel generators and being able to supply ZERO EMISSION energy in temporary off-grid events and in construction sites. EU Green Week 2021 will be an opportunity to show how it is possible to make hydrogen affordable to produce power in a sustainable way anywhere in European cities.
MAIN TOPICS TO BE PRESENTED
PROJECT INTRODUCTION –Stefania Marongiu (RINA Consulting SpA)
HOW TO TACKLE EU CITIES POLLUTION AND THE ROLE OF GENSETS IN SUCH POLLUTION – Arthur Hinsch (ICLEI EU Secretariat)
GENSET INTRODUCTION and DEMO CAMPAIGN INTRODUCTION – Sabina Fiorot (Environment Park)
THE IMPACT OF GENSETS IN EU FESTIVALS and DEMO OPPORTUNITIES FOR FESTIVAL – Jacob Bilabel (Green Music Initiative)
THE USE OF GENSETS IN CONSTRUCTION SITES, THEIR ENVIRONMENTAL IMPACT AND ACCIONA EVERYWH2ERE Demonstration Site – Miguel Angel Paris Torres (ACCIONA)
We look forward to seeing you on June 3 from 11am to 12pm to tell you more about our project at #EUGreenWeek2021.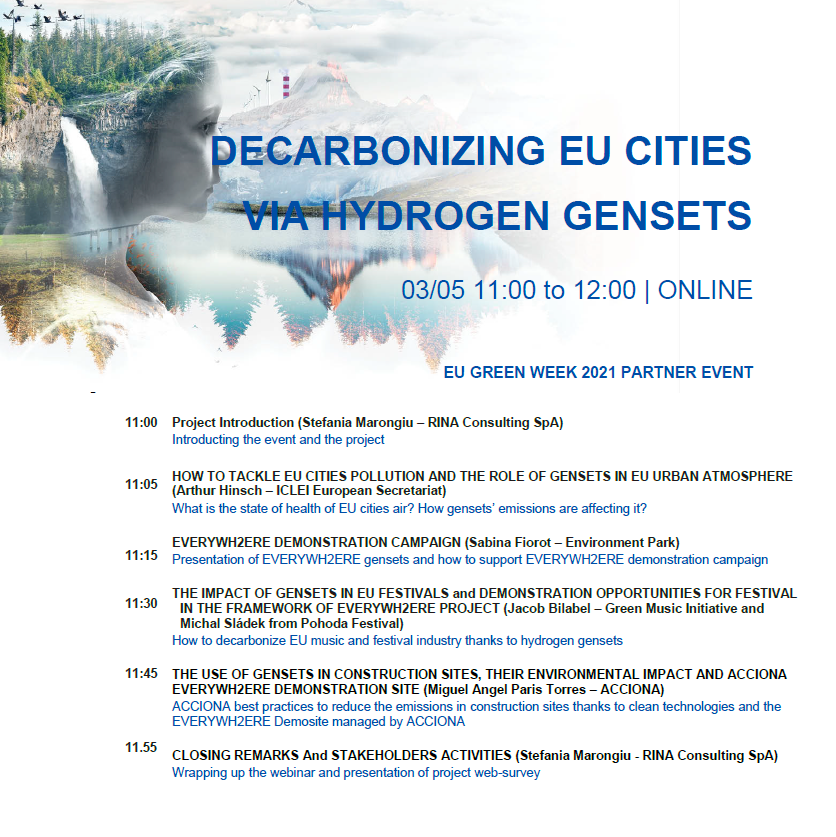 Registration here